Which TESOL / TEFL Certification Course is Right for Me?
OnTESOL offers advanced TESOL certification courses for people who want to pursue a professional career and core TEFL certification courses for gap-year teachers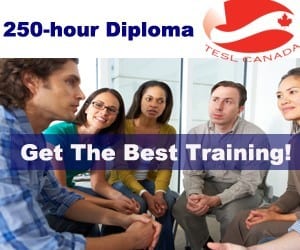 The 250-hour TESOL Diploma is the most comprehensive TESOL certification course in the world. Get the training that you need to qualify for the best jobs in the world and be better prepared for career advancement opportunities. This advanced TESOL certification program is recognized by TESL Canada for their Professional Standard 2 accreditation on completion of a separate Practicum module.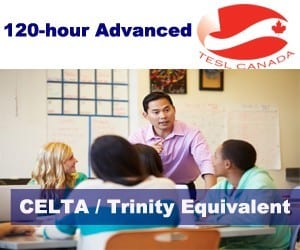 Get certified to teach English in Canada or go abroad with an accredited TESOL certificate. This 120-hour TESOL certificate program is recognized by TESL Canada for their Professional Standard 1 accreditation on completion of a separate 20-hour Practicum. TESL Canada Standard 1 is equivalent to CELTA and Trinity CertTESOL.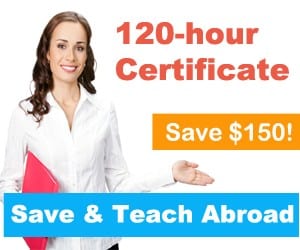 Combine the 100-hour TEFL Certificate course with the 20-hour Teaching English to Young Learners (TEYL) specialist and save $150 with the 120-hour TEFL Certificate Package. This program is perfect for gap-year teachers going abroad to teach English to children or teenagers.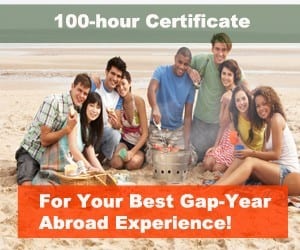 The 100-hour TEFL certificate program is perfect for gap-year teachers who want to get certified quickly to teach English abroad! Learn to create professional lesson plans online with the core TEFL certification course. Recognized by ACTDEC UK.

Testimonial – Geordy Reid says: Even after completing a Bachelor of Education, Master's Degree in Educational Psychology with a thesis on English Language Learner Achievement, two years teaching in South Korean international schools and five years teaching in Canadian public secondary schools, which includes international programming, I found OnTESOL's program incredibly useful, relevant, theoretically sound and pedagogically inspiring. Not only is this program fundamental for those who wish to teach abroad, but it is also practical and helpful for teachers working with international students who need greater insight into linguistic development, language learner needs and adapted teaching strategies.
How Will OnTESOL Help You Become a Better ESL Teacher?
Learning to create professional lesson plans is the most important reason for taking a TESOL / TEFL / TESL certification course, but most institutes assess their trainees via quizzes and short reflection essays. After completing your course with OnTESOL, you will be able to create fun and effective lesson plans using authentic materials, integrated skills activities, role-playing, simulations, drama in the classroom, storytelling, debating techniques, presentations, and many more strategies and techniques. All our courses include professional tutor support and accredited course material.
Testimonial – Jacob Feinberg Says:  After taking my TESOL course through OnTESOL, I was offered TWO teaching positions in Germany. This course has not only allowed me to find the job of my dreams, it has given me the proper tools to be an effective teacher.  I've looked at many online TESOL courses and OnTESOL offers the most robust teaching course. Their trainers are there for you 24/7.  And yes, both jobs I found through the OnTESOL Job Board! This course is worth so much more than what I paid for it!

Get Free Job Placement Assistance After Completing Any Of Our Online TEFL / TESOL Courses!

Korean Horizons is an official EPIK recruiter. Coventry House International-OnTESOL partnered with Korean Horizons to offer free recruitment services for public school jobs in South Korea. Apply to teach English in South Korea while taking your TESOL / TEFL certification course with OnTESOL!
Teach English in Japan with Gaba! Over 40 locations! Apply to  teach English Conversation One-to-One with the leading institute in Japan after completing your online TESOL / TEFL certification course!